Meet the Masterpiece on the Mississippi!
We're called the "Masterpiece on the Mississippi" for a reason – the river carved our landscape into a work of art. With over 59 miles of hiking trails, 16 breweries & wineries, 75 music & arts festivals, and over 200 nonprofits, Dubuque is no stereotypical midwestern city! Check out the brochure below to learn more about what makes this small city so unique and full of opportunity.
You can "make it" in Greater Dubuque >>
100 Things to do in Dubuque
Dubuque is the first city in Iowa, and a spot for endless adventure. Whether you're looking for activities with family, your pet, solo, or with your partner, there's always something for you to make Dubuque into your new favorite destination.
Check out Travel Dubuque's article for ideas on what to do >>
View the digital 2019 Travel Dubuque Guide for even more ideas >>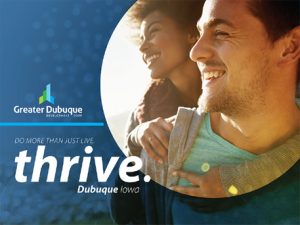 Greater Dubuque Development Corp. Relocation Guide
Thinking of taking the next step to move here? Learn more about the Dubuque community with this handy guide. Get an overview of everything you need to know before packing the moving van! View the guide online or request a physical copy using the links below.
This Week in Dubuque: Travel Dubuque's Event Calendar