Reformation & Reunion
April 23, 2019

-

April 25, 2019
Register for Reformation and Reunion
Milestone Years:
65 Years-1954, 60 years-1959, 55 years-1964, 50 Years-1969, 45 Years-1974, 40 years-1979, 35 years-1984, 30 years-1989, 25 years-1994, 20 years-1999, 15 Years-2004, 10 Years-2009, 5 Years-2014
Accommodations:
Wartburg Seminary Guest Rooms – 333 Wartburg Place, Dubuque A limited number of guest rooms are available to rent on the campus of Wartburg Theological Seminary. On campus housing can be requested as part of the registration form.
Best Western Plus, Dubuque – 3100 Dodge Street, Dubuque A block of rooms has been reserved at the Best Western in Dubuque. To reserve your room call 563-557-8000.
Grand Harbor Resort – 350 Bell Street, Dubuque This hotel is located near Downtown Dubuque by the Mississippi River. To reserve a room, call 866-690-4000.
Locations of the speakers and breakout sessions will be determined based upon attendance and communicated in your packet at registration.
Tentative Schedule of Events
Tuesday, April 23 6:30 PM-8:30 PM
All Alumni and Guest Reception  held in Von Schwartz Refectory  (Heavy appetizers and drinks will be provided)
Wednesday, April 24 8:00 AM
Continental Breakfast and Event Registration  and Packet Distribution in Von Schwartz Refectory
10:30 AM Community Worship
11:30 AM The Rev. Louise Johnson, President
12:15 PM Community Lunch in Von Schwartz Refectory
1:30 PM Keynote Speaker, Grace Pomroy
3:30 PM Plenary Session #1 with Grace Pomroy
Evening dinner and fellowship on your own  (A list of local restaurants and contact information   will be provided upon request for class dinners)
Thursday, April 25
8:00 AM Continental Breakfast in Von Schwartz Refectory
9:00 AM Plenary Session #2 with Rev. Dr. Sam Giere
10:30 AM Chapel
11:15 AM Plenary Session #3 with Rev. Dr. Ann Fristchel
12:30 PM Lunch in Von Schwartz Refectory
Keynote: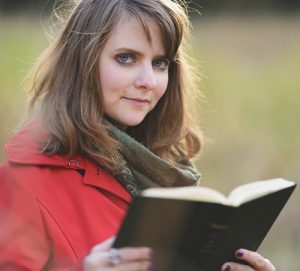 Grace Duddy Pomroy is a millennial stewardship ministry leader and financial educator. She graduated from Luther Seminary in 2012 with a Master's of Arts degree in Congregational Mission and Leadership. She served as the Assistant Director of the Center for Stewardship Leaders at Luther Seminary and the Executive Director of Operations for Kairos and Associates and the Joshua Group. She is the co-author of the recently published stewardship book, Embracing Stewardship: How to Put Stewardship at the Heart of Your Congregation's Life, as well as author of the 2013 ELCA stewardship resource, "Stewards of God's Love." You can find her online and read her weekly blog at www.gracepomroy.com. She lives in Apple Valley, MN with her husband, Tyler. She is currently the Financial Education Specialist at Portico Benefit Services.
*Support funding for this event has been provided  through the Dr. Robert B. Gronlund Memorial Stewardship Lecture Series.*