Dr. Stephen J. Cornils, Chair of the Wartburg Theological Seminary Board of Directors, shared the news this week that the Rev. Louise Johnson notified him of her resignation as President of Wartburg Theological Seminary, effective December 31, 2019. In his announcement to the WTS community, Cornils shared: "In our life together, we champion Wartburg's mission of forming and deploying valued leaders for God's church, whenever and wherever we are called. Our beloved President Louise Johnson exemplifies that mission in her own discernment to accept a new call to serve in Jesus' name."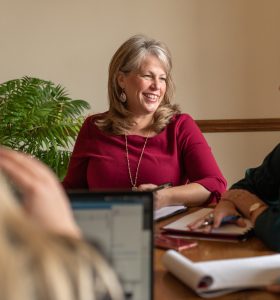 Johnson has accepted a call to pioneer a major new Leadership Development initiative with LEAD. LEAD is a thriving leadership organization that has grown out of the Texas-Louisiana Gulf Coast Synod and is now becoming a standalone organization. LEAD has a strong and growing footprint in the ELCA and beyond. She will be charged with growing the organization and developing new pathways for leadership. This position puts her on the front lines of experimentation in leadership development – a place she thrives – where God will continue to use her for the work of the church and the world.
Cornils, who has worked in close collaboration with Johnson since she began her tenure as president, shared: "Louise has gifted our seminary with remarkably spirited and effective leadership over the last four and a half years within the Wartburg Seminary community and far beyond. We have no doubt in this new calling through LEAD that her abundant leadership gifts will be leveraged to multiply, equip, and empower new and diverse generations of gifted, passionate, capable, and authentic servant leaders."
A WTS Master of Divinity graduate, Johnson was appointed the 14th president of the seminary in 2015 and began serving that June. Johnson previously served at the Lutheran Theological Seminary at Philadelphia (now United Lutheran Seminary) since 2004 and also as the WTS Associate Director of Admissions from 1999 to 2004. Prior to her departure at the end of December 2019, there will be opportunity to express appreciation to Johnson for her effectiveness as a leader and as a deeply admired pastoral presence and friend to those in and beyond the WTS community.
"I love Wartburg. I have loved it since the day I set foot on the grounds. I will always be a 'Wartburger,' called to love and serve the gospel of Jesus Christ, called to address the needs of those 'who are like sheep without a shepherd.' Count on my support and advocacy. Count on my prayers for the bright future of our beloved school. Count on my partnership in the ministry of the Gospel."

– Rev. Louise Johnson
Wartburg is grateful to God for Johnson's leadership in this historic and extraordinary season. News of next steps for the seminary in light of this announcement is forthcoming in the weeks ahead.
For questions regarding this announcement, contact Dr. Stephen Cornils and Lindsey Queener, WTS Director for Marketing, by emailing communication@wartburgseminary.edu.