Despite Reunion Cancellation, Class of 1965 Exceeds Fundraising Goal for Student Scholarships
"We are grateful to God for God's graciousness to us in so many ways. We are grateful to Wartburg Theological Seminary for the blessings given to us while we were there." – Rev. Dr. Lyle Miller, WTS Class President
As if celebrating their 55th anniversary of graduation from Wartburg Theological Seminary was not enough, the WTS class of 1965 has come together to make a difference. With the leadership of Rev. Dr. Lyle Miller, WTS 1965 class president, they set a goal to raise $5,500 to gift to student scholarships.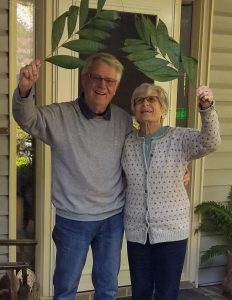 When asked why his class would want to set such a challenge goal, Lyle (pictured left with his wife, Sonja Miller) shared it was their "discovery of the need for gifts," coupled with their "gratitude". He continued, "We are grateful to God for God's graciousness to us in so many ways. We are grateful to Wartburg Theological Seminary for the blessings given to us while we were there."Lyle started this movement by writing a simple letter asking his classmates to join him in a celebration that might spark this same gratitude in others.
This was not the first time the class of 65 has come together to make a difference for the students at Wartburg. For their 50th anniversary of graduation they came together to raise a similar goal.
"Most of our classmates realize that seminary students and newly ordained pastors have heavier financial burdens than we experienced," Lyle continues, "At that time the national church body was able to carry more of the costs of our education.  Recent surveys show that the average graduate now carries an average debt of $40,000 to $50,000. That is a weighty load to carry into your first call as a pastor!"
This understanding of need and deep gratitude for Wartburg Seminary fueled their mission to make a difference as Lyle and the class of 1965 met their goal and gifted over $8,600 for student scholarships, gifting almost a half tuition scholarship to a student in need. Wartburg Seminary give thanks for Lyle and the entire class of 1965 for their faithfulness and leadership.