Class of 2020 Commencement Story: Real-Time Digital Ceremony
The Wartburg Seminary Administrative Cabinet did not make the decision lightly to hold the 2020 Commencement and Baccalaureate as a distance celebration on Sunday May 17th. While the WTS community grieved with graduates, we also knew it would be possible to honor graduates, certificate earners, and our honored award recipients and guests through a distance celebration.
The Rev. Amy Current, VP for Admissions and Student Services shared of this decision, "It is not ideal but we are doing our best to be thoughtful, creative, and to be realistic about this time in which we find ourselves." The combined celebration via Zoom for Baccalaureate and Commencement was held in the afternoon of May 17th at 3pm CST, the same date and time as planned for the in-person gathering.
Planning & Preparing for Commencement
REV. AMY CURRENT, VICE PRESIDENT FOR ADMISSIONS & STUDENT SERVICES
Final year master's students—a mix of residential, commuting, distance, and collaborative—began second semester with cap and gown measurements and professional graduation photos during Prolog Week. They shared stories, prayer, worship, and hopes for commencement in May. As the pandemic began to unfold, the joy for the coming graduation was mixed with palpable grief as students wouldn't receive their hoods in person with family and friends, the class would not share hugs, high fives, or fist bumps with classmates or professors, and, probably most poignant, wouldn't worship together as students in Loehe Chapel again.
Due to this palpable grief, the task force chose to do our best to acknowledge it and at the same time proclaim the good news of Christ calling leaders forth into the world in a time like this. As we discussed planning graduation via Zoom, we talked about the essentials for graduation. We all agreed that having a worship service was central that included the commencement. The idea of a "commencement kit" emerged, and one was mailed for each graduate and special guest, including (as it applied to each degree/certificate): a printed program, diploma sleeve/certificate, composite photo, a candle for the ceremony, and if a degree graduate: a cap, tassel, and hood.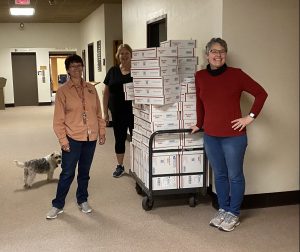 Three staff members met for a social distancing box stuffing event in early May to prepare a box for every grad, certificate recipient and honoree. It was with great joy to see these boxes received in the days leading to the ceremony as graduates shared photos of the kit on their social media accounts. In the Loehe Chapel on campus, a chair was set for each graduate with a candle in each place and along with the chairs for the faculty in the chancel. The intent throughout the planning and preparation process was for an intentional connection to the physical chapel and our life together through the ceremony.
The Commencement Liturgy with Conferring of Academic Degrees & Citations
Commencement weekend at WTS is always a beautiful effort shared among students, faculty, and staff annually. This year was different to be sure, but no less of a team effort. What a joy to celebrate together as community—all degrees conferred, the Gospel proclaimed, and Zoom held strong! Below are some highlights from the powerful and meaningful service.
Sermon
"Dear graduating class of 2020 from THE Wartburg Theological Seminary: Here I am, in the Loehe chapel at WTS. I close my eyes and I see you; we see you. There is a seat here for each and every one of you, and a seat for each of your faculty—including Gwen Sayler, her seat, her banner, her vigil candle—and on each seat there is a candle lit, a symbol, representing you, representing your light." – Rev. Dr. Nate Frambach
Special Awards and Honors
"Enough of building walls. Vertical walls are not only an issue of borders, but also the walls that have been built in the hearts and minds of people. So, I call on you today to turn vertical walls into horizontal tables that don't divide but bring people together so we can plan our future with one another in community under God's grace. I call on you to set tables before people so we can come together and you can connect those tables with God's table where we are all welcome to be nourished and sustained for our journey." – Rev. Dr. Ruben Duran (honorary Doctor of Divinity recipient and commencement speaker)
Conferring of Academic Degrees and Citations
The awarding of the Certificate of Attendance, TEEM (Theological Education for Emerging Ministries) Certificate, Certificate in Theological Studies, Certificate for Lutheran Learning and Formation, Master of Arts Degree, Master of Arts in Diaconal Ministry Degree, and the Master of Divinity Degree.
Charge to and Response from the Class of 2020
"I pray, we taught you how to lead out of the past, in the here and now, and into the future. The Gospel of Christ transcends time and place as much as it is specific to time and place. Its particularity is the very thing that makes it universal, for there is one body, one Spirit, one Lord, one faith, one God and Father of all. And if we've done our jobs as an institution of theological education, then your training and formation, your time with us has prepared you for particularly in whatever shape, place, and time it comes." – Dr. Kristine Stache, Interim President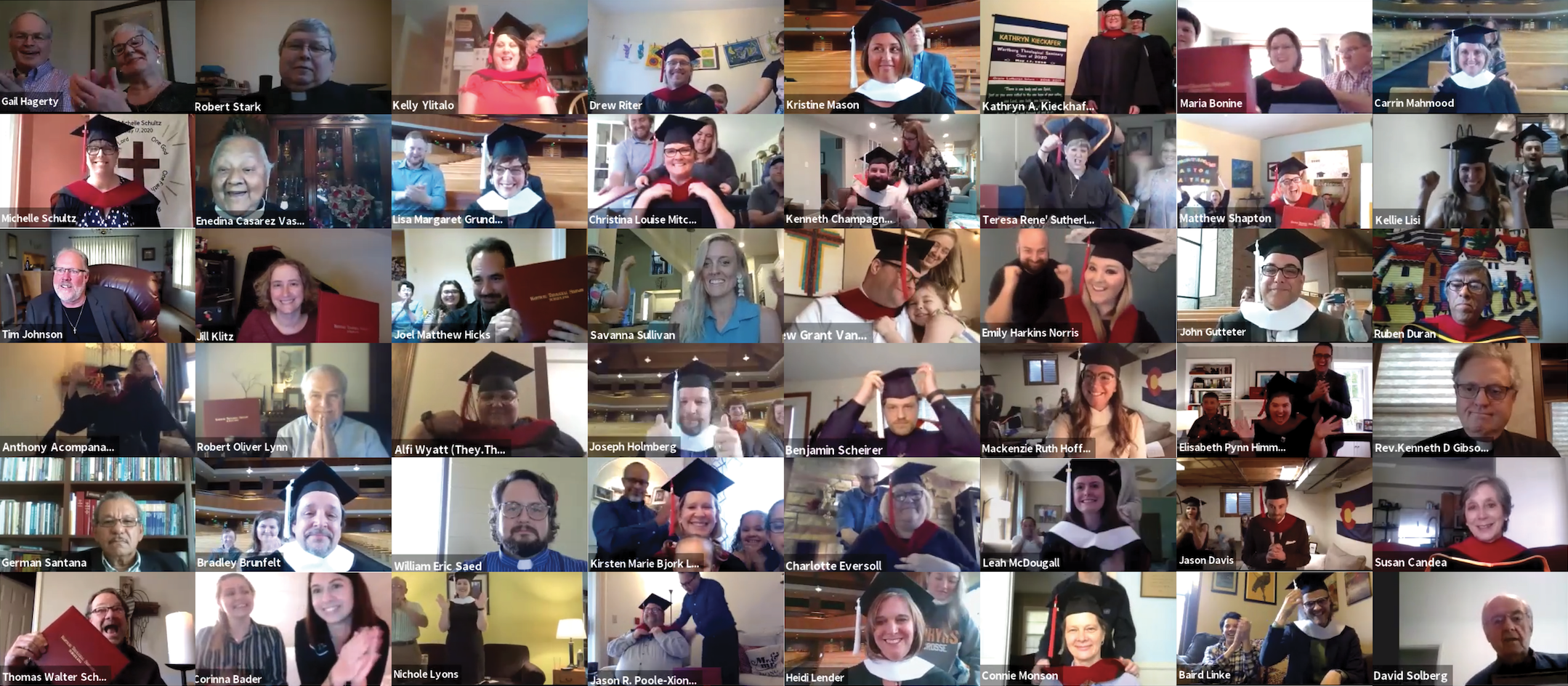 In Conclusion
Once a Wartburger, always a Wartburger. We can't wait to welcome this very special class of graduates back to campus when the time comes. For now, Rev. Dr. Nate Frambach's words to the class during his sermon bring comfort in the promise of God to go forth to the work which we are called with confidence that we are not alone.
We are sent out on a journey for which there are no sure maps but abundant promise: I will not leave you orphaned. The Holy Spirit, Advocate/Helper, will be with you forever. Our calling together is to discern a way forward on this road we have chosen, or better yet, that has chosen us—even and especially when the way forward is at best unclear and uncertain. But hear this people of God:  Christ will be the One who will sustain us—who will sustain you—along this way because there is no One else in the entire cosmos with love and power enough to do so.

-Rev. Dr. Nate Frambach