Rev. Nat Bothwell '16 and congregation rally to distribute free water in Iowa communities alongside other ELCA churches
A derecho, or "land hurricane" as it has been described, moved slowly and devastatingly through the Midwest with winds topping 100 miles per hour earlier this month. The storm left over one million people without power with Cedar Rapids, IA being one of the hardest hit cities. Rev. Craig Brown '09 shared that his congregation, First Lutheran Church in Cedar Rapids, is coordinating storm recovery efforts (i.e. cutting tree branches, raking, tarping roofs) for the next thirty days for all ELCA churches in the area and their members. Rev. Paul Amlin '09, pastor at Lord of Life Lutheran Church in Dubuque, IA answered the call to volunteer along with others from his congregation twice.
Craig shared with members of Lord of Life: "Words can't express how much your presence meant to us. Seeing our yards cleared was uplifting, having one less financial burden of not having to pay someone is freeing, but the most impactful thing we think was you showed that you care and our struggles, heartache and pain matter to you. You are all saints in Dubuque. God bless you and thank you!"
About two hours west of Cedar Rapids in Slater, IA, more WTS grads were at work helping coordinate storm relief efforts, eventually leading a refrigerated truck full of 20lb bags of ice to end up at First Lutheran Church in Cedar Rapids. Read below for the story of how Rev. Nat Bothwell '16 and the church council of Bethlehem Lutheran Church in Slater, IA were able to provide relief through a truck full of ice to their own neighbors in Slater and come alongside other WTS grads across the state during a time of widespread devastation in their communities.
From Free Ice in Slater, IA to Cedar Rapids, IA
Read the story from Rev. Nat Bothwell '16
From the beginning, it was clear that this wasn't just another storm. My wife Minna (also a WTS graduate and the pastor of Capitol Hill Lutheran Church in Des Moines) and I live in Ankeny. I made the short drive up to Slater on Monday afternoon to check on the church. Things seemed bad in Ankeny, but Slater was almost unrecognizable…not to mention, inaccessible. Roads were closed, power lines and trees were down, and entire fields of corn were flattened. I called our council president the following day (Brenda Neville), and we were both feeling a little overwhelmed.
What do you do? Where do you even begin? It was a disaster…within a pandemic…as if this year hadn't been memorable enough. At some point between Tuesday and Thursday, we started asking the same question we've been asking ourselves all year: "well, what is it that we can do?"  Brenda made a few calls. She's a long-time parishioner of Bethlehem, that's true. She's also the president and CEO of the Iowa Motor Truck Association (IWTA). She called parishioners, neighbors, and friends. "There are two things that everyone is saying they need right now: chainsaws and ice," she said. Handing out ice was the safer option, so we agreed on ice.
Brenda could get a refrigerated truck donated (by Niece Trucking in nearby Huxley, IA). IMTA could provide a licensed driver. The ice was more of a challenge. By Thursday, there was no ice to be found locally. Slater was still without power, and the derecho had brought with it some really warm, humid air.  Brenda searched for ice most of Thursday afternoon, eventually leading her to a supplier in the St. Paul area. "Minnesota Ice" (I love the name) was able to provide 1000 20lb. bags of ice at $5 a bag, and to help us out, they offered to throw in an extra 200-300 bags. All she needed was a check.
I asked her to call a few of our council members. In Ankeny, we were without power for 3 days, and were sleeping in our basement at night—the whole family—just trying to stay cool. A little ice sounds like a small thing now, but it was a big thing in the moment. Brenda didn't have to twist many arms.  Every council member she called was ready to do something.
It didn't matter that we hadn't budgeted $5k for ice in 2020. We hadn't budgeted for livestreaming equipment either. We hadn't budgeted for a pandemic, or six months of distancing.
Brenda negotiated 15 pallets of ice for the price of 10, and everything about the effort fit our "what is it that we can do" criteria. The truck left for Minnesota on Friday afternoon. It was loaded immediately, and by Friday evening, it was parked on the west side of our church. We decided to begin distributing the next morning (Saturday) from 10:00 a.m. to 6 p.m. If we still had ice left over on Sunday, we'd do it again for a second day.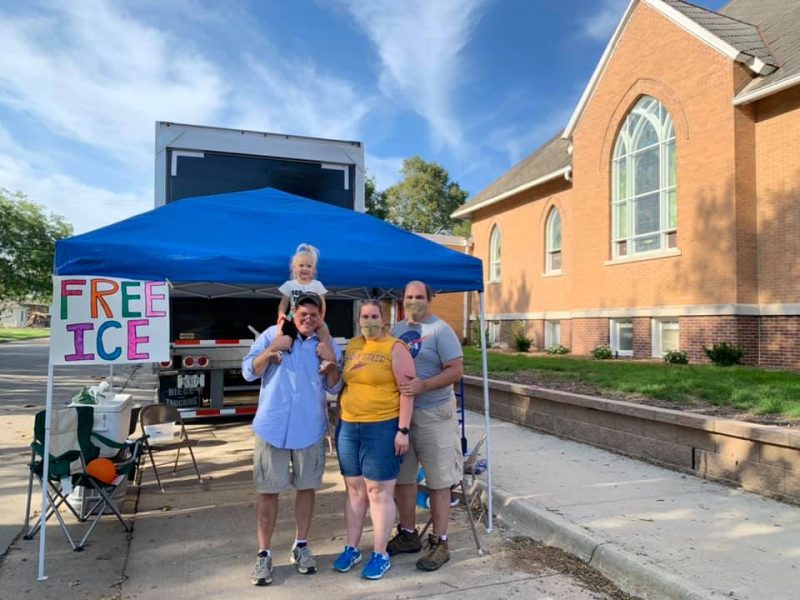 There wasn't any time to put together a volunteer schedule. We sent an email and we made a Facebook post letting our parishioners know that we'd be distributing ice out of a truck on Saturday morning. That was it. One council member showed up with a pallet jack and a dolly (both of which, we desperately needed). Another brought cold drinks and a portable tent.  Another found a small ladder to make our truck access easier and another family made "Free Ice" signage.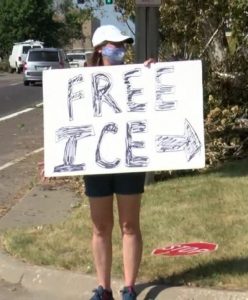 By the time I arrived for the late shift on Saturday, you would have thought we were seasoned veterans at this sort of thing. Our volunteers had already seen a few tears and heard sentiments of sincere appreciation. "I just need one bag," they'd say—whether or not they had room for more. Our volunteers took bags of ice over to the local trailer park. They loaded up the golf cart of a long-time local who knew the neighbors who'd never ask themselves. That neighbor came back time and again and try a new route. In the first day, we went through at least 400 bags of ice (in a town of 1200 people). It seemed like a lot of ice, but in reality, it was only 4 pallets out of 15. We woke up Sunday morning, and we did it all over again.
At some point on Sunday, it became clear that we'd have more ice than we'd be able to distribute in a day (in Slater). By this point, our community had learned the word "derecho," and the news from Cedar Rapids had reached Slater. I made a call to Pastor Craig Brown at First Lutheran in Cedar Rapids. Craig returned the call, and I explained that we might have 700 bags of ice to send his way first thing Monday morning. I mentioned to Minna that Bethlehem might have 700 bags of ice to unload and that we were looking to send the truck to Cedar Rapids.
Minna offered to sponsor that effort on the spot, having already talked to her council at Capitol Hill Lutheran, and they were ready to donate up to $1500 if it would help in the effort. $1500 would not only buy the extra diesel fuel that we needed to send the truck to Cedar Rapids, it would help us take care of the driver ("Don"). By Monday morning, the truck was on the road to Cedar Rapids. They distributed the remaining 700 bags of ice at First Lutheran in a single day, and the truck returned to Des Moines Monday evening.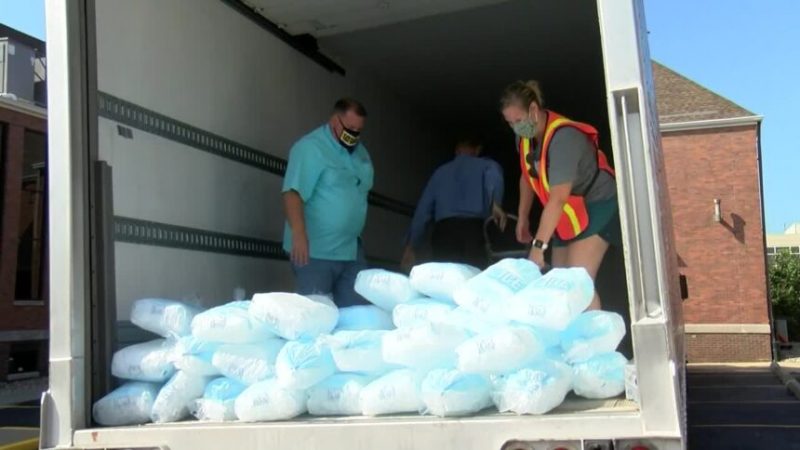 What did we learn in all of this?
We practiced 'life together' beyond the building (which seems to be a recurring theme this year). We learned that in giving, something "kingdom-ish" can be found. The generosity that met us in doing what we could was unexpected, and in several cases, completely unsolicited. That first faithful move to import a ridiculous amount of ice from Minnesota… it didn't return to us empty. We asked for 10 pallets—we got 15. We asked for a few volunteers—we got more than we needed (of all ages).  We asked for a truck for 2 days—we got it for 3—and a volunteer driver. We never asked for gas money—we got that anyway. It would be a lie to suggest that everything went "as planned."
The truth is, we had no plan; but what we did have proved to be more than enough.
We learned (and I think we're still learning), what it means to actually practice this way of Christ… where "what we have" leads to "what God can do."  The initial leap, as it turns out, is only terrifying for a short time…and only when you look down.
Learn more about Cedar Rapids derecho relief organized by area ELCA churches on the First Lutheran Church in Cedar Rapids Facebook page.