Rev. Dr. Kristin Johnston Largen '97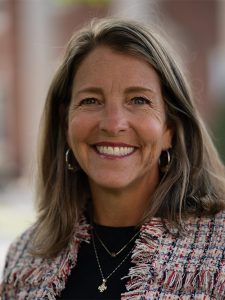 The Wartburg Theological Seminary Board of Directors, as recommended by the Presidential Search Committee, is pleased to announce the unanimous election of the Rev. Dr. Kristin Johnston Largen '97 as the next President of our beloved institution, beginning February 1, 2021.
Dr. Largen currently serves in a dual role as Professor of Systematic Theology at United Lutheran Seminary (Gettysburg & Philadelphia) and Associate Dean of Religious and Spiritual Life/College Chaplain at Gettysburg College, Gettysburg, PA. An accomplished scholar and proven administrator, the Presidential Search Committee, chaired by the Rev. Michael Carlson '04, is both enthusiastic and confident in the Rev. Dr. Kristin Johnston Largen in her acceptance of this new call.
Dr. Steve Cornils '70, Chair of the Board of Directors, shared the news with the Wartburg Seminary community: "Dr. Largen's extraordinary qualifications, exemplary leadership gifts, and wide-ranging interests are evident in her devoted and distinguished service as a pastor, professor, seminary administrator, and scholar. Her passionate devotion and extraordinary giftedness in forming valued leaders during her distinguished service to Gettysburg College and United Lutheran Seminary will enhance and widen the witness of Wartburg Seminary throughout the Church, and in emerging interfaith relationships, for such a time as this."
Biography
The Rev. Dr. Kristin Johnston Largen was born in Colorado and still considers Colorado the home of her heart. After serving as a parish pastor in Arvada, Colorado, she began teaching at Gettysburg Seminary (now United Lutheran Seminary) in 2006 and teaches in the area of systematic theology, focusing particularly on comparative theology with Buddhism and Hinduism. She also works in 21st century theology, specifically with feminist and liberation theologies. She is the editor of Dialog: A Journal of Theology, and her most recent books are Finding God among our Neighbors, vol. 1 & 2 (Fortress Press, 2013 & 2017), and A Christian Exploration of Women's Bodies and Rebirth in Shin Buddhism (Lexington Books, 2020).
Dr. Largen also serves half-time as Associate Dean of Religious and Spiritual Life/College Chaplain at Gettysburg College. She is a runner, hiker, avid reader, longtime vegetarian and animal lover, and amateur harp player. She lives with her husband John in Gettysburg, Pennsylvania.
From the Search Committee
"What I see in Dr. Largen is a candidate who conveys an expansive vision, strong leadership, and a joyful spirit. She is grounded in the history of Wartburg Seminary and Lutheran theological education yet also brings expertise in how Wartburg can prepare leaders for the church we are becoming." – Amalia Vagts, Wartburg Seminary MDiv student
"Kristin Johnston Largen is an expansive thinker and attentive listener. To me, these are the qualities of a great leader.  Her enthusiasm for gospel-driven community is apparent and contagious. She will serve with her whole self for the whole community." – Dr. René Johnson, Assistant Professor of Religion, Finlandia University
"In our conversations, Kristin responded to our questions with answers that where not simply fitting, but also theologically informed, personally reflective, and with a keen eye to our future. Not only is she a leader, she is also personable, engaging, and warm in personality. I look forward to seeing Wartburg's next chapter unfold under her leadership." – Rev. Dr. Troy Troftgruben, Associate Professor of New Testament
"Kristin is a passionate educator and scholar who has great affection for Wartburg and whom I believe can help shepherd Wartburg through uncertain times. She espouses a ministry of inclusion, which I believe is essential not just for Wartburg, but for the future of the church. She is incredibly dynamic and beloved by all who work with her." – Dr. Stephanie Halvorson, Chief of Hospital Medicine; Associate Professor of Medicine, Oregon Health Sciences University
About Wartburg Theological Seminary
Founded in 1853, Wartburg Theological Seminary is a seminary of the Evangelical Lutheran Church in America offering residential and distance theological education through its masters programs and through its Theological Education for Emerging Ministries (TEEM) program. The Seminary is accredited by the Association of Theological Schools and the Higher Learning Commission. Questions about this announcement can be directed to communication@wartburgseminary.edu.