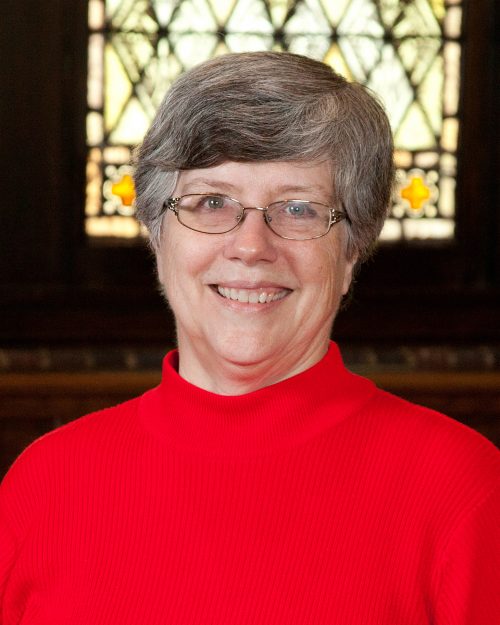 Doctor of Philosophy
Emory University
Master of Divinity
Wartburg Theological Seminary
Bachelor of Science
University of Wisconsin, Madison
Rev. Dr. Ann L. Fritschel
Professor of Hebrew Bible
The Rev. Dr. Frank L. & Joyce S. Benz Professor in Scripture
Director of the Center for Theology and Land
Faculty Biography
Professor Ann Fritschel, a Wartburg Seminary graduate, celebrated her 25th anniversary of ordination in 2011. After serving churches in Dickinson, Mohall and Hamerly N.D., she got her Ph.D from Emory University and joined the Wartburg Faculty in 1996. With a strong interest and passion in rural ministry, she also serves as the Director of the Center for Theology and Land. Ann has presented numerous workshops on the psalms, Islam and stewardship, as well as leading several synod assembly bible studies. Her passions as an instructor is to help students gain their own voices and biblical interpreters and discover ways to created proclaim the Gospel in today's challenging and changing contexts. She enjoys traveling (as long as people drive on the right side of the road), reading and needlepoint. She is owned by two cats, both of whom like her sister better. She is a descendant of Gottfried Fritschel, one of the founders of Wartburg Seminary.
BI 228W      8th Century Prophets and Social Justice
IN 306W      Bible in the Parish: Biblical Stewardship
BI 222W      Hebrew Language and Bible I
BI 224W      Hebrew Language and Bible II
BI 210W      Introduction to Islam
BI 335W      Isaiah
BI 336W      Jeremiah
BI 260W      Jesus in the Bible and Qur'an
BI 231 232 233W      Pericopes of the Minor Prophets, the Writings, and the Wisdom Literature
BI 334W       Psalms in Israel's Worship
IN 201W       Readings in Global Theologies
MN 195W     Rural PlungeBI 297WTransforming and Transformative Bible Study
Materia lfrom the Fall 2016 Presentation on Islam at First Lutheran Church, Cedar Rapids. 1) PowerPoint Slides  2)  Lecture Notes (PDF Document)   3) Recommended Reading List (PDF Document)
Stewardship in Challenging Times. Luther Academy of the Rockies, 2012 – power point slides:
1. Stewardship Context
2. Justification and Consumerism
3. Stewardship as Reformation
4. Stewardship as Spiritual Practice
5. Stewardship for the Next Generation
6. Bibliography (one-page PDF document)
"The Pastoral Practice of Complex Analysis" inCurrents in Theology and Mission. October 2011, pp. 337-341.
The Hidden Hand of God: Wisdom Tales from Ruth, Daniel and Esther. Women of the ELCA Bible Study, 2008-2009. (Co-authored with Gwen Sayler).
Song of Songs, Introduction and Commentary in the Lutheran Study Bible. Augsburg Fortress 2009.
"Armbands, Magic", "Augury", and "Bar-Jesus" entries in New Interpreter's Bible Dictionary. Abingdon Press, 2005.
"Individual Laments as Communal Hymns" in The Difficult but Indispensable Church. Augsburg Fortress 2002.
Dr. Fritschel has extensive knowledge in the following categories and is able to serve as a resource on:
History, literature, and theology of the Hebrew Bible
Islam
Methods of biblical interpretation
Spirituality and theology of the psalms
Stewardship