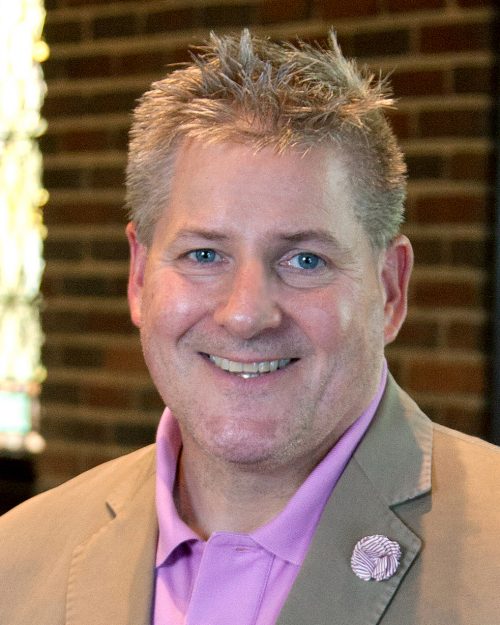 Doctor of Philosophy
Luther Seminary
Master of Divinity
Trinity Lutheran Seminary
Bachelor of Arts
Lenoir-Rhyne College
Rev. Dr. Nathan C.P. Frambach
Professor of Pastoral Theology
Faculty Biography
Born on a farm in rural Medina County, Ohio, Nathan Frambach presently lives in Dubuque, Iowa, with his wife, Diane, and their two boys, Garrett Andrew and Andres Thomas. Nate is a pastor presently called to teach at Wartburg Theological Seminary as Professor of Pastoral Theology.
Diane serves as a guidance counselor at Stephen Hempstead High School in Dubuque. She is responsible for their family's strong allegiance to the St. Louis Cardinals, and gets nervous when the boys shoot Nerf hoops in the home office where the computer is located. Garrett is in his second year at the University of Iowa with a focus on communication arts and journalism. He's now an apartment dweller, still loves baseball, skateboards, and gets to as many concerts as he can–with his friends and with his dad.  Andres is a sophomore at Hempstead high school in Dubuque. He play basketball and runs track at Hempstead and, now that he has his license, likes to drive whenever he can get a set of car keys. If you are interested in their adoption journey to Colombia in the summer of 2005 visit www.caringbridge.org/visit/andres and enter Wartburg.
As for Nate, he has a prized collection of personal letters from Frederick Buechner. Otherwise he is still a fan of The Office, works on a Mac, paddles a Bell, roots for the STL Cardinals and the Gonzaga Bulldogs, reads Wendell Berry and Mary Oliver, runs on the Heritage Trail, and collects pint glasses. He has some favorite hangouts in Dubuque, but you'll have to ask to find out if you're interested.
A pastor by public vocation, Nate served three congregations prior to his time at Wartburg–two in Illinois and one in Minnesota. Most recently (2014) he served as the pastor pro tem at New Hope Lutheran Church in Farley, Iowa, during his last sabbatical. He also served as Associate Director of the Youth Ministries/Gathering team for the ELCA and, prior to that, as an Instructor on the faculty of Luther Seminary in St. Paul, Minnesota for two years while he finished a Ph.D. in Practical Theology (congregational studies and leadership). Along with worshipping, learning and teaching with the Wartburg community, Nate shares the values and friendship and continues to cultivate curiosity in emergence Christianity. Nate currently serves on the editorial board of the Connect Journal (www.elcaymnet.org). Nate's philosophy of life is really quite simple: work as little as possible, make as much money as you need, do what you love to do. He pretty much always wishes he were canoe camping in the Boundary Waters (unless it's the middle of winter, when he doesn't wish that so much), and he loves good beer.
MN 260W      Across the Generations: Cross- Generational Ministry
MN 372W      Children, the Family, and Faith
IN 308W        Leaders in Mission: A Theological Task
MN 373W      Pastoral Care of Adolescents
MN 380W      Pastoral Theology Method
MN 200W      Renewing Worship: Beyond "Traditional" and "Contemporary"
MN 160W      Seen and Heard: Foundations for Youth and Family Ministry
IN 106W        Spiritual Practices
MN 365W      Systems Thinking and Family Theory in Pastoral Ministry
MN 355W      The Cultures of Youth and the Question of Identity
The Hyphenateds: How Emergence Christianity Is Re-Traditioning Mainline Practices (Chalice Press, 2011)
Emerging Ministry: Being Church Today (Augsburg Fortess, 2007)
www.emergingministryonline.org
The Ministry of Children's Education:  Foundations, Contexts, Practices, Augsburg Fortress, 2004
High Frequency:  Lost and Found , musical curriculum, 2001
Across the Generations:  Incorporating All Ages in Ministry:  The Why and How, Augsburg Fortress, 2001
Dr. Frambach has extensive knowledge in the following categories and is able to serve as a resource on:
Adolescent spirituality
Narrative & Story
Emergence Christianity
Pastoral Care & Counseling
Pastoral Care with Adolescents
Spirituality, Music & Film
Wilderness & Spirituality
Youth, Culture & Mission
Congregation & Home
Faith, Fiction & Poetry
Congregational Leadership & Mission
Baseball, Beer, Wendell Berry & the Boundary Waters