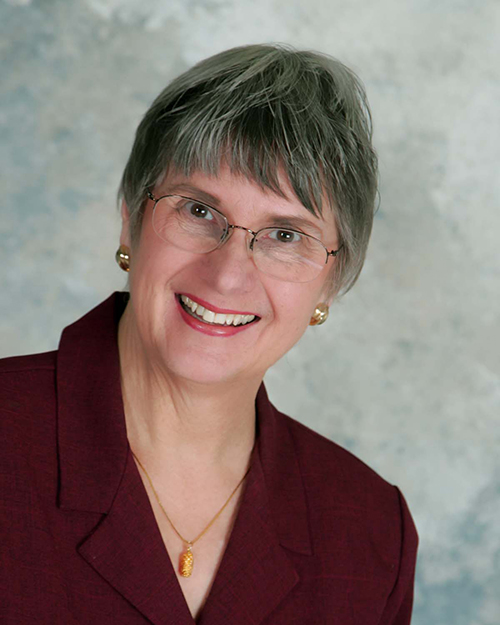 Doctorate
Denver University and the Iliff School of Theology
Master of Divinity
Yale Divinity School
Master of Arts in Religion
Concordia Theological Seminary
Bachelor of Arts
Valparaiso University
Associate of Arts
North Iowa Area Community College
Rev. Dr. Norma Cook Everist
Distinguished Professor of Church and Ministry emerita
Biography
Dr. Norma Cook Everist taught at Wartburg for many years, helping foster a learning community of shared power and partnership that built on the gifts and insights of all, preparing graduates for leadership in the church and world. She previously taught at Yale Divinity School. She is a widely known lecturer and the author of many books, chapters in books, articles, and educational resources.
Two of her resources are available on Wartburg's website under "Resources" for people to download and use. One, "Connections: Faith and Life," co-authored with Nelvin Vos, is a four-unit, experiential adult education resource using Luther's Large Catechism. The second, "Grace and Peace to You." is a yearlong devotional journey though the Epistles.
Dr. Everist has served nationally and internationally on many task forces and committees in the areas of ministry, leadership, theological education, gender studies, and ministry in daily life. She enjoys visiting congregations and other places where Wartburg graduates serve. Her book, Open the Doors and See All the People, was written about such visits. She communicates on her blog, "Conversations on the Church's Vocation in the Public World." Everist now lives in Mason City, Iowa. She is a member of The Lutheran Deaconess Conference and a pastor in the ELCA.
2017-           Distinguished Professor of Church and Ministry, emerita, Wartburg Seminary
2009-17       Senior Distinguished Professor of Church and Ministry, Wartburg Seminary
1990-09       Professor of Church and Ministry, Wartburg Seminary. Primary Areas: Educational Ministry, Church Administration
1984-90       Associate Professor in the Ministry Division, Wartburg Seminary
1979-84       Assistant Professor in the Ministry Division, Wartburg Seminary
1977-79       Parish Associate, Hamden Plains United Methodist Church, Hamden, Connecticut
1976-79       Lecturer in Practical Theology, Yale Divinity School, Word and Sacrament Ministry with Lutheran Students
1976-77       Parish Associate, Bethesda Lutheran, New Haven, Connecticut
1974-76       Comparative Religion Instructor, Hamden Hall Country Day School, Hamden, Connecticut
1971-73       A Conference Program Coordinator, Ecumenical Continuing Education Center at Yale, New Haven, Connecticut
1970-76       Inner City Ministry, New Haven, Connecticut
1966-70       Inner City Ministry, Detroit, Michigan
1960-64       Parish Deaconess, Ascension Lutheran Church, Saint Louis, Missouri
Open the Doors and See All the People: Stories of Congregational Identity and Vocation, republished.  Eugene, OR: Wipf and Stock, 2016
Seventy Images of Grace in the Epistles That Make All the Difference in Daily Life Eugene, OR: Cascade Books, Wipf and Stock, 2015
With Craig Nessan. Transforming Leadership. Minneapolis: Fortress, 2008
Editor. Christian Education as Evangelism. Minneapolis: Fortress, 2007
Open the Doors and See All the People: Stories of Congregational Identity and Vocation. Minneapolis: Augsburg Fortress, 2005
Church Conflict: From Contention to Collaboration. Nashville: Abingdon Press, 2004

The Church as Learning Community. Nashville: Abingdon Press, 2002           
Editor. The Difficult but Indispensable Church.  Minneapolis:  Fortress, 2002
Editor. Ordinary Ministry: Extraordinary Challenge. Nashville, TN: Abingdon Press, 2000         
With Nelvin Vos. Connections: Faith and Life. Chicago: The Evangelical Lutheran Church in America, 1997
With Nelvin Vos. Where in the World Are You: Connecting Faith and Daily Life. Bethesda, MD: The Alban Institute, 1996
Compiler and editor. Gentle Strength: Homilies and Hymns of Ralph F. Smith. Dubuque, IA: Wartburg Theological Seminary, 1995
With Burton Everist. Since You Asked. Minneapolis: Augsburg, 1989
With Nelvin Vos. Connections: Faith and World. Philadelphia: Division for Parish Life, Lutheran Church in America, 1985
Education Ministry in the Congregation. Minneapolis: Augsburg, 1983