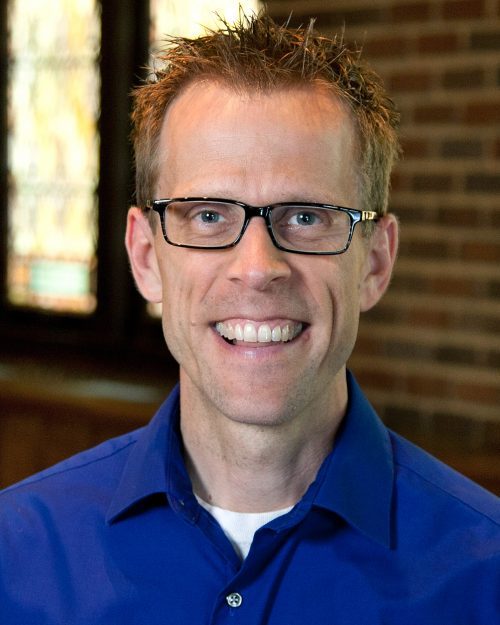 Doctor of Philosophy
Princeton Theological Seminary
Master of Divinity
Luther Seminary
Bachelor of Arts
Trinity Lutheran College
The Rev. Dr. Troy Troftgruben
Assistant Professor of New Testament
Faculty Biography
Troy has served as Assistant Professor of New Testament at Wartburg Seminary since 2013. Before that he served for five years as a pastor in Grand Forks, ND, and as an adjunct instructor of religion at the University of North Dakota. Troy's areas of special focus for teaching and writing are Luke-Acts, Matthew, and early church communities. He enjoys teaching with technology, whether online, residentially, or in hybrid settings. By vocation, Troy sees himself as a pastor with a specialized call, the education and formation of church leaders through Wartburg Seminary. Troy is married to Maria, and together they have two children, Timothy and Teresa. On Sabbath time, Troy enjoys making music, biking, cooking, camping, and practicing the discipline of hope by following Minnesota sports teams and the Chicago Cubs.
BI 192                 Engaging the NT Letters
BI 190                 Engaging the NT Narratives
BI 376                 Paul's Corinthian Correspondence
BI 271                 Preaching Luke
BI 203                 Readings in Ecclesiastical Latin
BI 003 004          Summer Intensive Greek (Online)
BI 366                 The Acts of the Apostles
BI 251                 The New Testament World
"Salvation 'Today' in Luke's Gospel." Currents in Theology and Mission (October 2018), forthcoming.
"Decentered Online Bible Instruction: How Active Learning Enhances the Study of Scripture." Teaching Theology and Religion 21.1 (January 2018): 33–46.
"Slow Sailing in Acts: Suspense in the Final Sea Journey (Acts 27:1–28:15)," Journal of Biblical Literature 136.4 (2017): 949–68.
By Heart: Conversations with Martin Luther's Small Catechism. Facilitator Guide. Minneapolis: Augsburg Fortress, 2017.
Matthew. Books of Faith Series Adult Bible Studies. Leader and Learner Guides. Minneapolis: Augsburg Fortress, 2016.
A Conclusion Unhindered: A Study of the Ending of Acts within Its Literary Environment. Wissenschaftliche Untersuchungen zum Neuen Testament 2:280. Tübingen: Mohr Siebeck, 2010.
"Finding and Forming Pastors the Pauline Way," Lutheran Forum 49:4 (Winter 2015), 18–20.
"Lessons for Teaching from the Teacher: Matthew's Jesus on Teaching and Leading Today." Currents in Theology and Mission 40.6 (Dec 2013): 387–98.
"Acts for Lutherans," Lutheran Forum 44:3 (Fall 2010), 13-15.
Dr. Troftgruben has extensive knowledge in the following categories and is able to serve as a resource on:
The Book of Acts and the Gospel of Luke
The Gospel of Matthew
The Earliest Christian Communities
1-2 Corinthians
The World of the New Testament (cultural, economic, historical)