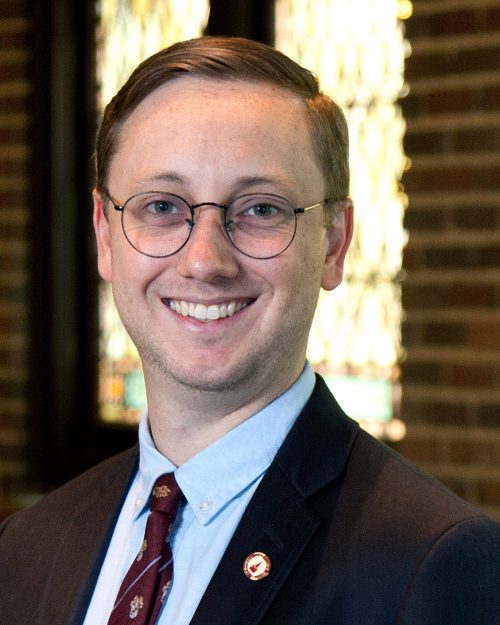 Doctor of Philosophy cand.
Boston University
Master of Divinity
Luther Seminary
Bachelor of Arts
Texas Lutheran University
Director of Educational Technology
Instructor of Practical Theology
Faculty Biography
Tim joined the Wartburg community full-time in Fall 2016. Prior to his appointment, he served as an adjunct instructor at Lutheran Theological Southern Seminary and Wartburg Seminary. Trained as a theologian and scholar of American religion, his current research explores questions of contemporary religious identity and authority in American culture.
His essays and reviews for both academic and popular audiences have appeared in Religion Dispatches, Cross Currents, The Other Journal, The International Journal of Practical Theology, Ecclesial Practices, and Currents in Theology and Mission.
He is a graduate of Texas Lutheran University, Luther Seminary, and is currently a doctoral candidate at Boston University. He is a past Coolidge Fellow at Auburn Seminary & Union Theological Seminary, and Doctoral Fellow at the Louisville Institute. He is a member of The Association of Practical Theology, The American Academy of Religion where he serves on the steering committee for Ecclesial Practices, and The Association of Teaching Theologians (ELCA/ELCIC) where he serves a membership secretary.
Tim brings ten years of ministry experience to his scholarship having served diverse congregations in Texas, Minnesota, and Massachusetts. He is married to Lindsey Queener, and they live together in Dubuque.
MN250            Christian Formation: Education, Development and Lived Theology
MN161            Congregation and Community
IN142              Formation for Discipleship
Book Chapters
"The Possibility of Conflict" in Crossing Boundaries, Redefining Faith: Interdisciplinary Perspectives on the Emerging Church Movement, Michael Clawson and April Stace, eds. Pickwick Publications, 2016.
"Improvising with Tradition: A Case (Self) Study" in The Hyphenateds: How Emergence Christianity is Re-Traditioning Mainline Practice, Phil Snider, ed. Chalice Press, 2011.
Book Reviews
Andrew Root, Christopraxis: A Practical Theology of the Cross (Minneapolis: Fortress Press, 2014) in International Journal of Practical Theology 18:2 (Fall 2014).
David Stowe, No Sympathy For the Devil: Christian Pop Music and the Transformation of American Evangelicalism (University of North Carolina Press, 2011), in Journal of Religion and Popular Culture (Spring 2014).
Pete Ward, ed. Perspectives on Ecclesiology and Ethnography (Grand Rapids: W. B. Eerdmans Publishing Company, 2012) in Ecclesial Practice: The Journal  (Fall 2013).
General Publications (Selected)
"The Theological Hijacking of Religious Freedom," Religion Dispatches, April 28, 2015.
"What the Surveys Don't (and Can't) Say About the Rise of the 'Spiritual but not Religious'" (Op Ed), Religion Dispatches, July 21, 2014.
"Twitter and Tragedy: A Revamped American Religious Experience" (Op Ed), Religion News Service/Washington Post, September 13, 2013. Also appeared on Sojourner's Blog and featured resource on homepage of Berkley Center for Religion, Peace and World Affairs, Georgetown University.
Tim has extensive knowledge in the following categories and is able to serve as a resource on:
Congregational Studies
Public Theology
Christian Education and Formation
Ministry in Digital Culture
Technology and Theological Education
Religion in American Society
Modern Theology (20th Century to present)
Theology of Work and Vocation