Master of Divinity Student Tina Beauvais' Story
Originally published in the Spring 2020 issue of the LifeTogether Magazine, Tina Beauvais shared her fieldwork story with us. As the world rapidly changed around us during the COVID-19 pandemic and physical distancing measures, so did Tina's fieldwork experience. Read her very different experiences below – both before and during the COVID-19 quarantine.
PIT & BALCONY THEATRE, SAGINAW, MICHIGAN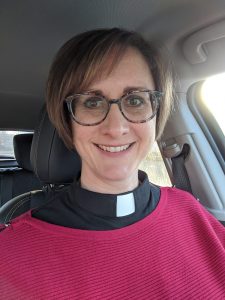 When I found out that I would have hours to add to my already very full plate through the fieldwork requirement, I was stressed, but Char did a great job of encouraging us during Prolog Week to think outside the box when choosing a site. After a brief conversation with her, I realized that community theater would fit the profile for a good fieldwork site. It felt like a gift, really, that I would still be able to participate in something that I loved – something I thought I would have to eliminate from my schedule due to time constraints – to complete my fieldwork. I am blessed that Wartburg sees such a value in these experiences because it really helped me see how I can be the church out in the community that I already was so entrenched in.
I have worked with many community theaters in the area and have been in various shows over the past 10 years. I knew, to a certain extent, what to expect at Pit & Balcony Theatre, but I started this particular show with a different mindset to focus more on the people I was working with than I had in the past. I wanted to make building relationships my priority.
Having people open up to me has been what I've enjoyed most about my experience. I have a way of joking around a lot when at rehearsals, which I found actually made me more approachable. I am starting to see value in what I bring to and the way that I do ministry, verses what I think I should be like doing ministry. It's also interesting to see people's pre-conceived notions crumble around me – notions about what pastors should act like. I find joy when I can see those expectations change and see their ideas about faith be challenged at the same time.
One day a cast mate came up to me and just started to ask me about my faith. This person was starting to realize through our brief conversations, interactions, and through my social media feed that I was a different representation of the church than he had experienced up to this point. I painted a picture of a church that is inclusive and loves all people, regardless of sexual orientation. This was a new way of thinking for him and I hope that he knows he can always come to me as the planted seeds grow in his heart. This experience helped me see in different eyes and that God has planted me in these activities for a purpose. I am excited about what God could be calling me to do in the future as a bridge between the church and the theater.
FIELDWORK FOLLOW UP: MASK MAKING AND DONATING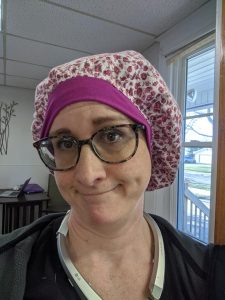 I was not able to do another theatre project this term, primarily because all shows were canceled due to COVID-19. Instead, I decided to use my businesses, which is a small sewing factory, to make and donate cloth masks for people in need of them.
I spent my hours developing mask (and surgical cap) patterns, sewing in the off-hours, and, even though I'm way past my 35 hours, I'm still going, committed to donating 200 masks. (I'm at 145 now).  This is much more of a solitary experience than last summer, but that is the nature of the beast during COVID-19 quarantine.
I am deeply enjoying it, though, as it helps me focus on the positive right now and tend to people in a much-needed way.  It's challenged me to find ways to minister to others, even with very little human contact, and to put on the hat of servant and get to work.  I've had many small conversations through this work – mostly with people in stressful situations.  A quality mask donated, free of charge, has given a lot of relief to people. My entire family has gotten on board – even my husband likes to pitch in, cutting fabric for me to sew.