Rev. Phouthaly Onelangsy's Story, TEEM '19 Graduate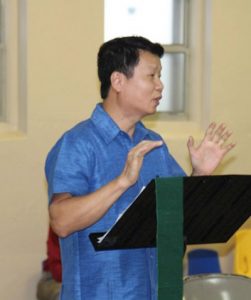 Des Moines, Iowa is a long way from Vang Vieng, Laos, but this small town in the north­ern region of Laos is where Phouthaly Onel­angsy calls home. In 1975, toward the end of the Vietnam War, Onelangsy's home country fell into the hands of the communists. It was at this time that his father was captured and put into a prison camp; this is a lot for anyone to face much less an eight-year-old child. The third oldest of seven children, he was forced to give up his childhood and find ways to help support his family. He took on as many jobs as he could; he worked in the rice-fields, fished, and carried water from the river each day.
Even with all the ways he helped his family they still barely had enough food or money to live. As a result of his family's situation, he and his siblings had to sacrifice their education as they were not able to go to school during this time. He and his family struggled every day without his father for the four-plus years he was imprisoned, but in 1980, his father was able to escape from the prison camp and crossed the Mekong River in order to get to a refugee camp in the northern part of Thailand.
Once Onelangsy's family received word of his father's escape they made plans to reunite with him at the refugee camp. In order to reunite with him, they had to leave their home, friends, and belongings behind, but they again made the sacrifice and were eventually reu­nited as a family. When asked about his faith during this time he explained that his family followed the tradition of worshiping and hon­oring their ancestors' spirits. They would kill pigs and other animals as an offering to their ancestors each year to honor them; praying that they would grant them good luck, health, and protections.
In 1983, Slate Hill Mennonite Church in Penn­sylvania sponsored Onelangsy's family to come to the United States. It was soon after immigrating that his family started attending the church that had sponsored them, and this is where he first met Pastor Malcolm Sawyer, a former missionary to Laos. Onelangsy credits Pastor Sawyer with first telling him the story of Jesus and considers him the one who inspired him to enter public ministry.
Onelangsy currently serves St. Paul Lao Lu­theran Church in Des Moines, Iowa: a diverse, vibrant, and growing congregation. When asked what he sees when he looks out the into the congregation each week he said, "I see the hearts and souls of people who have faced countless struggles regarding their beliefs and have found a church and a community that they can worship and serve how they want." He finds great joy serving this community and the Theological Education for Emerging Minis­tries (TEEM) program made it possible for him to serve in this context.
While Onelangsy has been serving in public ministry since 1996, he knew the TEEM pro­gram would give him the needed training to serve as pastor in the ELCA. Onelangsy said while he had a passion for serving God's people, he knew that he was "lacking in many parts of his ministry when it came to theology."
He says, "It was very easy to say yes to serving in public ministry. I felt that it was my calling for a large majority of my life. It was just a mat­ter of time and I knew what God had planned for me." The TEEM program has allowed him to use the many gifts and live fully into his story and journey of faith. Des Moines, Iowa is a long way from Vang Vieng Laos, but God has indeed been along the journey for Onelangsy. His story is one of courage, trials, and deep faith in God; a story he now gets to share, due to the TEEM Program, with his diverse, vibrant, and growing congregation.