Dianne Pritchard, TEEM Student, Reflects on the TEEM Program.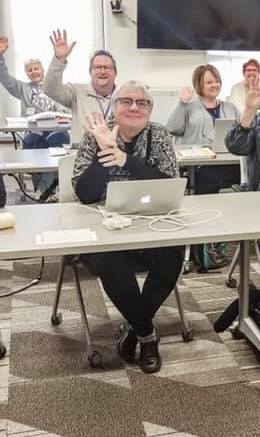 One of the greatest gifts of TEEM, besides the stellar teaching and learning, is the fellowship and support that we provide each other. This warm friendship occurs most readily in the setting of the on-campus intensives. Some of us return to a collegial desert, so these times spent in each other's physical presence—with non-stop dialogue—are an integral part of our vocational, spiritual, and pastoral growth. After my first online and on-campus courses, I knew I had a posse! Thanks to technology, that support remains available at the touch of a key.
This relationship-building is good for both mental health in our roles as pastors and for the health of the congregation. In fact, our continual conversation is good for the wider church. It goes without saying that we are all preaching the same gospel. As members of the TEEM program, as Wartburg Theological Seminary students, and as connected Lutherans, we are learning together how our tradition interprets and proclaims scripture, worship, and congregational leadership.
The TEEM program is grounded not only in scripture, but in reality. As TEEM pastors and students, many of us are second-career and dual-career.  We have not had the privilege of attending seminary full-time on campus.  While many pastors have had the opportunity to attend seminary in the traditional route, none of us TEEM students have been able to uproot home and household and move to Dubuque. When we received the call of the Holy Spirit into ministry, the ways we could answer that call could have been limited by circumstance and responsibility to others. Through TEEM, I can answer that call – a call that is rooted in the love of God, a call that nourishes the Church, and a call that can be realistically answered, thanks to Wartburg's TEEM program.
Dianne Prichard
TEEM Student