After 25 years of service to Wartburg Theological Seminary, Prof. Susan Ebertz plans to retire this month. Please join us in expressing gratitude to God for Susan and her many gifts, which have blessed and shaped so many church leaders.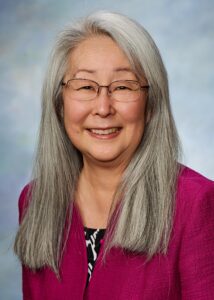 Why do I support Wartburg Theological Seminary? 
I love interacting with our students. I positioned my desk in such a way that when students came to the library they would walk by me so that I could greet them by name. I have always wanted our library to be a place where our students could come and feel comfortable to both work and build community.
This is what Wartburg Seminary does so well: build on the best of the past while imagining the future into which our students will live and serve. So, I always intentionally placed books at the entrance of the library that would stimulate our students to expand their thinking beyond their own experiences and contexts. Libraries are not so much about preserving the past as about anticipating the future as part of our educational formation and witness to the gospel.
My faculty colleagues and I are providing a $112,000 match to your gifts! 
Wartburg's mission is to equip faithful leaders for the church and the world. Our newly remodeled library will more effectively prepare our students for the proclamation of the gospel in our changing world. This is what we do. This is who we are at Wartburg Seminary.
I am so thankful for all of those who support God's exciting mission for Wartburg Seminary and the Church as a whole. I always love reconnecting with former students and meeting those who invest in God's future through Wartburg Seminary. It is marvelous to see people who understand the need for bold leadership and support our students through scholarships and innovation.
Will you join us in this challenge as stewards of the resources that God has placed in our hands?  
If I had a hope for Wartburg Seminary, it would be that we would continue to build from the church of today into the church of tomorrow. This church will be far more diverse than we have been, so that the message of Jesus Christ will effectively address the world that is increasingly multi-cultural. In Jesus Christ, all are included in the love of God.
In closing I would like to share Romans 12:13: When God's people are in need, be ready to help them. Always be eager to practice hospitality.
Professor Susan Ebertz
Associate Professor of Bibliography & Academic Research
Director of the Reu Memorial Library


PS: Every gift will be matched dollar for dollar up to $112,000.  Can our church's future leaders count on your financial support?