New LifeTogether Magazine features 2019-2020 Fiscal Year Impact Stories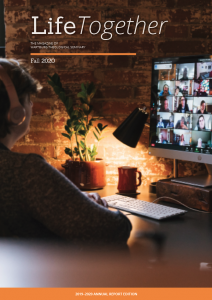 At Wartburg, we have often said that we explore new ways of preparing leaders for a changing world with deep roots. Those deep roots were planted in a time of crisis when Wilhelm Loehe saw an emergency need for pastors to be trained to share the gospel with the world around them. Our roots have enabled us to be nimble and agile in response to changing contexts while remaining firmly planted in who we are as a worship-centered community.
This year brought transitions in our community accompanied by a global context none of us could have predicted. We entered into a Presidential transition and search, our beloved professor Rev. Dr. Gwen Sayler passed suddenly, a worldwide pandemic unfolded around us, and systemic racism became more visible than ever. Any one of these items could have been enough to unsettle a place, but our deep roots were built for this: weathering the unexpected is what we do. Innovation, growth, and new programs are the fruit these roots have produced for more than 165 years.
LifeTogether is the official magazine of Wartburg Theological Seminary for our alumni and friends. Permission is granted for additional use in congregations. Founded in 1854 and located in Dubuque, Iowa since 1889, Wartburg Theological Seminary is one of seven seminaries of the Evangelical Lutheran Church in America.