Arrangements and Livestream information are located at the bottom of this page.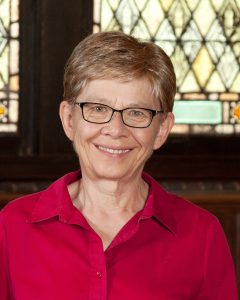 The Rev. Dr. Gwendolyn Beth Sayler, William A. & John E. Wagner Professor of Biblical Theology and Distinguished Professor of Bible at Wartburg Theological Seminary passed away suddenly and unexpectedly on Monday, November 11, 2019. She was 71. Gwen served WTS faithfully as professor for twenty-nine years where generations of church leaders learned Hebrew Bible, ministry, and advocacy in her classes.
Gwen served as the Director for Lifelong Learning for several years and also on the Internship Committee at WTS. She has authored numerous articles, book chapters, and one book. In 2016, she celebrated the 45th anniversary of her consecration as deaconess in the Valparaiso Lutheran Diaconal Association (LDA) community. Gwen both generously supported and drew great strength from the deaconess community. In addition to her commitment to the LDA, she was ordained to the ministry of Word and Sacrament in the ELCA and celebrated the 35th anniversary of her ordination in 2017. She also served on the Candidacy Committee for the South-Central Synod of Wisconsin for more than twenty years. Gwen planned to retire at the conclusion of the 2019-2020 academic year, when she was anticipating a vibrant, active life of serving.
Gwen was an avid bicyclist and Green Bay Packers fan. In her transition to retirement, she was volunteering as a tutor for 1st and 2nd graders at the Dream Center in Dubuque and helping two women with their conversational English at the Presentation Lantern Center, a local nonprofit that serves and welcomes immigrants. She was an active member of St. Peter Lutheran Church in Dubuque where she served as chair of the Evangelical Outreach Committee, the Parish Planning Council, and helped the congregation engage the local Marshallese community around issues of justice and learning.
"Professor Gwen Sayler served with distinction as a theological educator centered on teaching God's Word for generations of Wartburg Theological Seminary graduates and in the larger church. She especially rejoiced in her community among the Lutheran Deaconess Association. Dr. Sayler was a strong advocate for social justice and deeply committed to the vocations of her students. She was a cherished colleague to all who knew her."

– Rev. Dr. Craig Nessan, Academic Dean
Gwen was a fierce advocate for inclusion, with particular concern for women and those marginalized because of their sexual orientation, gender identity, or expression. She lived her courage and her witness to the wideness of God's mercy in everyday life and as a support to so many students.
Gwen is survived by her younger brother Tom and his wife Valerie who live in Stanton, North Dakota, as well as her nephews, great nephews, and great niece. Gwen loved her visits to North Dakota to relax, enjoy time with family, friends, and WTS alumni.
In this time of grief, we draw near to God who is the source of all life and hope. We draw near to one another as we grieve, remember, celebrate, and hold fast to the resurrection promise. Please hold Gwen's family and all who grieve her loss in your prayers, as we hold the whole Wartburg community in prayer in the coming days and weeks.
For those who wish to honor Gwen's life and witness with a gift, a Professor Gwen Sayler Memorial Fund has been established to benefit WTS student scholarships. Gifts can be made online or by mail to Wartburg Theological Seminary, 333 Wartburg Pl, Dubuque, IA 52003. Condolences and remembrances can be sent to the President's Office at the same address or via email.

Visitation and Funeral Arrangements for Rev. Dr. Gwen Sayler
Visitation and Vigil
Friday, November 15th 2019 at 7pm CST
View the bulletin
Funeral Eucharist
Saturday, November 16, 2019 at 2pm CST
View the bulletin
Both the Visitation and Funeral will be held in the Loehe Chapel of Wartburg Theological Seminary located at 333 Wartburg Place, Dubuque, IA 52003. A reception will follow the Funeral Eucharist on Saturday in the Refectory. 
In lieu of flowers, donations to the Gwen Sayler Memorial Fund are requested.
Clergy are invited to vest for the Funeral Eucharist. The color of the day is white, and clergy will be gathering in Afton Lounge prior to the service.
Please feel free to utilize any of the available parking on campus. If it is your first time to visit the castle, view our Directions and Details page to locate the various parking options as well as the Loehe Chapel. If you would like to request or inquire about campus housing, please contact Lynne Baumhover via email or phone at 563-589-0300.