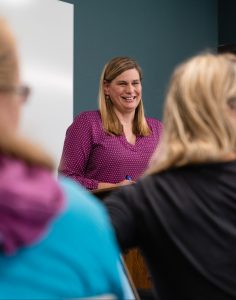 Dr. Stephen J. Cornils, Chair of the Wartburg Theological Seminary Board of Directors, shared the news last month that the Rev. Louise Johnson notified him of her resignation as President of Wartburg Theological Seminary, effective December 31, 2019. If you missed this announcement, we invite you to read more about it here.
Moving forward with missional momentum, the Board of Directors has unanimously voted to appoint Dr. Kristine Stache to serve as Interim President of Wartburg Seminary, beginning January 1, 2020. Dr. Stache has graciously agreed to serve in this capacity until the next president is chosen. Board Chair Cornils enthusiastically announces, "The Board of Directors has full confidence in Dr. Stache who has cheerfully embraced and thrived in response to increasing demands for her valued leadership. Her collaborative spirit and positivity are evident among her cabinet peers, fellow faculty, staff, and students. Clearly, her remarkable effectiveness as a servant leader is undergirded by her deep faith and missional fidelity. She's a natural fit, a valued leader!"
Dr. Stache currently serves as Vice President for Administration and Associate Professor of Missional Leadership at Wartburg Seminary. Stache has served on the WTS faculty for nearly thirteen years and is the holder of the Wilhelm Loehe Chair in Mission. Her leadership roles on campus have included Department Chair of the Ministry Division, Director of Learning for Life, Director of Certificate Programs and Distributed Learning, and Director for Innovative Initiatives. Stache also served on the Board's Strategic Vision and Planning Committee with Board of Directors member Rev. Dr. Nelson Meyer who chairs this committee. Meyer shared this of Stache's leadership: "Her contributions have helped the Board be both nimble and purposeful as we lead Wartburg into an opportunistic future. I am confident that Dr. Stache is the perfect choice for Interim President."
Stache is the architect of the seminary's current strategic plan and developed the Process of Innovation under which all of our new initiatives and experiments are implemented and assessed. Having worked in many areas of seminary leadership, Dr. Stache brings a rich set of academic and administrative experiences to the role of Interim President. Stache's appointment will ensure Wartburg Seminary's strategic visioning and partnerships remain strong and are executed faithfully to serve our mission and our world.
Stache earned her Doctor of Philosophy from Luther Seminary in the area of Congregational Mission and Leadership, her Master of Arts from Luther Seminary and Bachelor of Arts in Business Management from Luther College. In addition to academic teaching, Stache is recognized in the wider church for innovation and leadership, most recently evidenced in her fellowship award from Villanova's Center for Church Management to do original research on visionary leadership in the ELCA. Stache was also called to be a theologian of culture and innovation for a meeting of the Presiding Bishops of the Lutheran and Episcopal churches in Canada and the United States this past Spring. She has also served in parish settings as Director of Ministry Development, Director of Life Ministries, Director of Children's Ministry, and Youth Director. Stache brings a holistic, missional and community-centered vision to ministry.
Rev. Dr. Andrea DeGroot-Nesdahl, Chair of the Board of Trustees, who has worked closely with Stache, shared of this announcement: "I've had the opportunity to work with Kris Stache both as a professor and in an administrative role with our Strategic Plan on the Strategic Vision and Planning Committee. Her leadership skills, knowledge, and familiarity with Wartburg will all be assets as she moves into the Interim role. I feel fortunate to have her serving Wartburg at this important time of transition."
Cornils will appoint a search committee in the coming weeks for the next WTS president and requests that you keep President Johnson, Interim President Stache, and the WTS community in your prayers in this time of transition.
For questions regarding this announcement, contact Dr. Stephen Cornils and Lindsey Queener, WTS Director for Marketing, by emailing communication@wartburgseminary.edu.