New Legacy Plan Supports Student Scholarships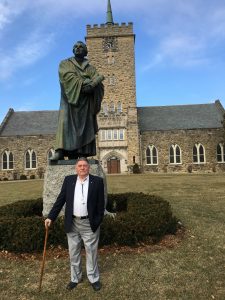 As a committed and faithful Lutheran, Dr. Gerald R. Kleinfeld believes deeply in the message of Jesus Christ, to love our neighbors, and to live a life of generosity. "All that I have does not belong to me," Gerald said. "We are God's stewards for a time, and then we give everything back."  Years of experience as a professor of history at Arizona State University, as a visiting professor and lecturer at universities throughout Germany and elsewhere in Europe,  leading the international German Studies Association, and consulting internationally on German-American relations have instilled in Gerald a deep love of teaching, learning, and building strong relationships.
During a recent visit to the Wartburg Seminary campus, students and faculty experienced the gregarious and erudite retired professor who was eager to engage with and learn from all in his company. At the foundation of Gerald's vocational approach is a steady faith which professes the sacred worth of neighbors and the freedom to serve them. Having given back for years through investing in the lives of his students, Gerald began discerning how he might express his Lutheran faith through his legacy plans.
He reflected on the dovetailing of his faith and a life of building relationships internationally when he expressed, "I want to connect the people of the world to faith in Jesus Christ." Gerald has discovered Wartburg Seminary to be a community of students and teachers deeply rooted in the Lutheran tradition and innovatively developing the path for future seminary education. With confidence in Wartburg Seminary's mission to send out pastors and church leaders into the world to proclaim the Gospel of Jesus Christ, Gerald has established the Dr. Gerald R. Kleinfeld Scholarship funded with a $500,000 gift from his estate. The Wartburg Seminary community joins Gerald in thanksgiving to God for the gifts of faith and celebrating this legacy to support our students in following their calls to ministry!