HONORING FOUR GENERATIONS OF PASTORS WITH ENDOWED SCHOLARSHIPS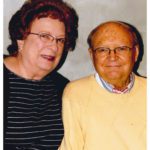 Harold and Grace Kurtz call themselves "accidental philanthropists." Wartburg Seminary now has four endowed scholarships in honor of four generations of pastors in the Kurtz family.  "There have been 24 members of our families who are Lutheran clergy, 20 of whom are WTS graduates," reports Harold. "We want to recognize the pastors [in our families] who have faithfully served the church."
Harold's great-grandfather came to WTS in 1885, and since then, "We've been a continuous line." This line of clergy includes three generations of pastors from Germany before emigrating to the US.
Why are the Kurtzs "accidental" philanthropists? Harold shared the story: "Once upon a time back in 1958 I was a graduate student working on a masters in journalism at University of Wisconsin." Harold shared an office with a man named Sandy Moss. "Sandy and I were kind of a version of the odd couple," quips Harold. "I was small town pastor's kid who had graduated from Wartburg College. Sandy was from Philadelphia, had a Jewish Unitarian background, graduated from college in Ohio, and we just were from very dissimilar backgrounds! However, we became good friends, and for some strange reason, we remained friends since then, which would have been 50-55 years."
Sandy eventually "adopted himself into" the Kurtz family. He was divorced, had no children, and had little other family. They stayed close over the years, though Minnesota and New Jersey, where Sandy lived, were quite far apart.
"He called one evening and asked if we'd be the executors for his will and we told him this is about the dumbest idea we'd heard of from him," Harold laughs. "He ignored us and put us as executors in his will. We didn't think a lot of this. . .The guy hadn't had a full time job since Jimmy Carter was president, we didn't think there'd be much of an estate."
Eventually, Sandy became ill, and Harold and Grace supported him in every way they could. He died July 5, and later the Kurtzs' found out that Sandy had inherited money. They were now in the possession of this inherited money that was to be given away. "As my wife puts it, we are accidental philanthropists," Harold says. "
Sandy left no instructions as to which charities should benefit from this money. Grace and Harold thought about what Sandy would want, and decided that a large portion of the money would provide scholarships at various institutions. Harold shared, "One of my dreams had always been to set up scholarships in memory of the four generations of our family who graduated from WTS: great-grandfather, grandfather, father, and brother…when this happened, we were able to do the four scholarships in memory of them all."
Wartburg Seminary is dear to the Kurtzes. "Grace and I have been modest supporters of WTS for years. We knew some people there, the seminary had been important to my family, and Grace knew lots of pastors who were WTS graduates, so we thought we should invest in the future of the church in this way."
The Kurtzs support the future of the church by commemorating the past. The four scholarships they established honor the four generations of the Kurtz family, graduates of Wartburg Theological Seminary. "These four pastors will be remembered; their legacy will be passed on to future generations of students," says Harold.