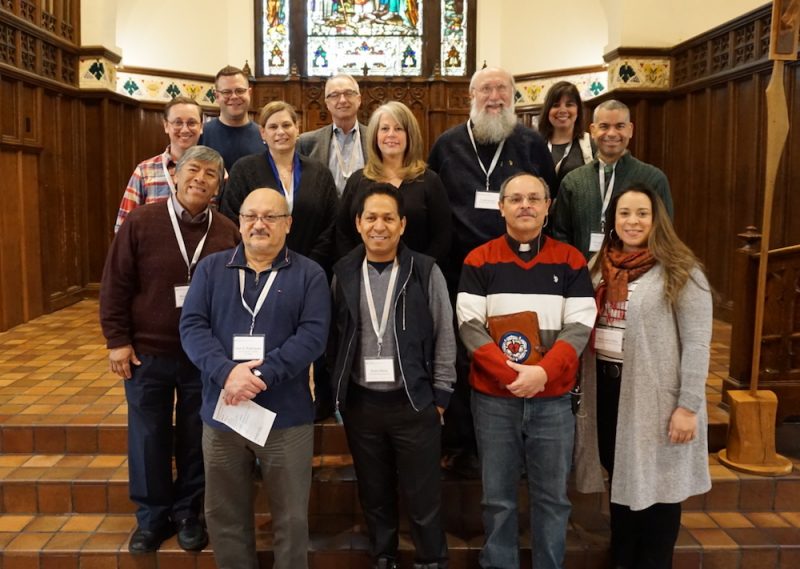 The ELCA Seminaries and the ELCA churchwide organization continue to discern together God's call to build theological education models that emerge out of the Hispanic-Latinx context. Wartburg Theological Seminary hosted scholars and church leaders who are part of the Hispanic Theological Education Network (HTEN) in March to work to begin to determine curriculum and pedagogy, as well as organizational, recruitment, and funding efforts that will advance the access, integrity, and quality of theological education in Hispanic-Latinx contexts for our church.
This is a critical initiative for our church, and Wartburg Seminary is honored to have hosted HTEN on our campus. Of the significance of this gathering, President Louise Johnson shares: "While issues like diversity are important to us, there is much more at stake in this gathering. What is at stake is nothing short of the church's credible and effective witness to the gospel." The goals of the HTEN meeting on Wartburg Seminary's campus were as follows:
To further promote conversation among Hispanic communities' leaders and seminary leaders related to theological education in the ELCA
To envision a comprehensive plan that addresses the vocational and ministerial situation of Hispanic-Latinx communities' leaders and ministerial candidates as they relate to theological education in the ELCA
To begin creating specific and related projects that promote theological education tailored to the Hispanic-Latinx communities of the ELCA
The meeting provided space for generative conversations, building relationships, and looking towards concrete next steps in the initiative to build models that support the goals outlined above. The Rev. Dr. Francisco Javier Goitía Padilla, Program Director for Theological Formation, Seminaries and Lay Schools in the Domestic Mission unit of the Evangelical Lutheran Church in America, said of the time together, "The consultation pondered imaginative and contextual ways for theological education focused in Hispanic-Latinx identities. Our hope is to pursue and develop a sustainable and long-term project en conjunto." The Rev. Dr. Goitía Padilla is an ordained minister of the ELCA rostered in the Caribbean Synod and preached at Wartburg Seminary's chapel service while on campus for HTEN.
President Johnson is hopeful that the outcomes of this initiative can be used broadly for all ethnicities to strengthen our church. She shares of what's next: "Our hope is that we can offer resources to support the Hispanic-Latinx community as they determine what education and formation look like now. Additionally, our hope is that this effort will not only be for Hispanic-Latinx people, but that it might also better form leaders from all ethnicities. The Latinx community has much to offer our church and we are all the richer for their strong presence and influence." Amen.