Welcoming What Could Be the Largest Graduating Class in WTS History
Jackie Baumhover, Director for Admissions, reflects on welcoming the incoming class of students into the WTS community and introduces a few of the new Wartburgers, too!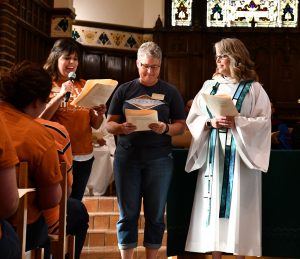 The WTS staff and faculty were absolutely incredible as we worked hard to ready campus to welcome this incoming class! The new students were beyond excited to begin their seminary journeys. We witnessed the spirit moving among these genuine, thoughtful, and fun leaders during Prolog Week. Already, they are forming friendships which will ultimately play a role in developing their pastoral identity. They are engaging with each other to tease out how they understand their calls and are building a faith community that grows stronger everyday – despite distance, age, experience, and degree. It's been magical to watch.
Rev. Dr. Craig Nessan, Academic Dean, shared on the addition of this class to our community: "The incoming class demonstrated already during their first Prolog Week deep commitment to their callings as church leaders and gifts for theological study. The faculty is amazed by their contributions to academic life and the WTS community already unfolding in our midst. We thank God for how the formation of these students is already transforming the WTS community and the promise it holds for the future of our church."
Part of the onboarding process for new students is to invite them to join a private Facebook group with other incoming students. We do this for a few reasons – but mostly so the students can start to get to know each other and ask questions. We love seeing the energy build and relationships form in this group even before they step foot on campus! This class took it upon themselves to create little biographies to introduce themselves and we've included a few here so you can get to know them too.
REBECCA BAIRD
My husband Tim and I graduated from Wartburg College (Waverly, IA) in May 2018, and were recently married in December. This fall I will be starting as Wartburg College's Pastoral Intern (which will be a connected internship possible through the WTS Collaborative Learning program for all four years while in seminary!). Also important: I love iced coffee and I could binge watch "The Office" for the rest of my life.
MYRON CRAWFORD
I am the super hip, cool, and clearly relevant former youth worker going to seminary or having a mid-life crisis…we'll find out together! I was a full-time youth director at two different congregations outside of Minneapolis for over 12 years. I have also been a wedding DJ for over 20 years. In fact, I have been a part of over 1000 weddings in that time! I am currently serving as a Synodically Authorized Minister (SAM) at a small congregation in Hanley Falls, MN and will be learning from afar as a Collaborative Learning student.
SAVANNA SULLIVAN
I am excited to start in the Master of Arts program at WTS! I currently serve as Director of ELCA Young Adults at churchwide in Chicago and will continue my work there while studying from a distance. I decided on the MA for a few reasons:  1. As a lay professional who has the privilege of working alongside young folks, I want to be a faithful steward of this work. 2. Investing in our own formation feels like it should be a put-your-money-where-your-mouth-is type deal. 3. I look cute in a backpack.
EMILY ERISMAN
I'm currently living in Encinitas, CA where I've been for the last 10 years or so. I graduated California Lutheran University this spring with a double major of Psychology and Theology & Christian Leadership. I am also a complete nerd with just a few of my favorites being Star Trek, Doctor Who, and Fullmetal Alchemist. I've got quite a journey to move to campus to begin my MDiv, but I can't wait to see what challenges and excitement seminary brings!
ANTHONY WINDAU
I am from Milwaukee, WI and just graduated from the University of Wisconsin – Eau Claire. I am working this summer on campus with the maintenance crew so I am getting to know WTS inside and out! I said yes to this job even though I had no idea what I would be doing, where I would be living, or the people I was going to be working with. Within moments of stepping foot on campus I was met with smiles and warm people, and within a matter of minutes I felt like Wartburg had been my home for months.
MARIE MARTINEZ
Hola a todos! I live in Houston, TX where I'm a member of Christ the King Lutheran Church. We ironically just moved here a little over a year ago from Iowa. In my former life, I was a mathematician and went to graduate school at Iowa State in Ames. I'm currently staying home with my two daughters (they both turned 1 and 3 in March). I'm wanting to participate in the Collaborative Learning program eventually, but am starting out as a distance learning student.
JONATHAN LYS
I've been working full time in ministry for the past 9 years as a Director of Young Disciple and Family Ministry at Shepherd of Life Lutheran in Arlington, TX. I felt a call to word and sacrament ministry since high school but it took me a wandering path to get there. I'm married and we have 2 boys, one who is 3 and one who is 4 months old. I'm really excited about starting this journey with y'all despite the fact that I might be insane to start all this with two small kids…or I'm called by the Holy Spirit…or both….